Wireless Charger Receiver Sticker
Detail Product
Equipped with Qi Wireless Charging Technology, it can be wireless charged by simply plugging the receiver to your micro USB device connector.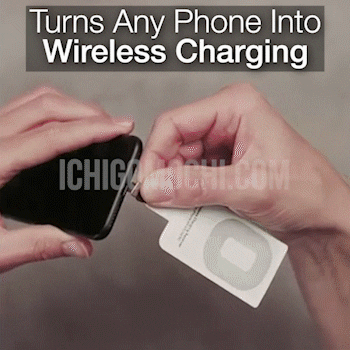 In the form of a sticker, to stay flat and not interfere with your phone usage.
This wireless charging receiver module comes with a filter capacitor, strong anti-interference ability, more uniform and stable magnetic field. 
FEATURES
Give the Qi wireless charging capability for phones without the built-in function.
Sticker form ensures normal use for users without interference.
Fast charging with advanced high power.
Coated by gold-plated nickel, protect your phone from dust, scratch and shock.
High-quality copper core, safe and speedy magnetic field and strong anti-inference.
Short-circuit protection of the receiver to avoid overcharge and overheating.
SPECIFICATIONS
Wireless charging standard: Qi standard
Input: 5V
Output: 5V 1000mA (Max)
Charge distance: 2~8mm
Connectors: Lightning, Type C, Android (Up), Android (Down)
PACKAGE INCLUDES
1x Wireless Charger Receiver Sticker