Detail Product
Studies shown that indoor air is 10 times more damaging than outdoor air because contained areas enable pollutants to build up easier than open areas. If you work in an office or will stay indoor for most of your day, you need this USB Air Purifier.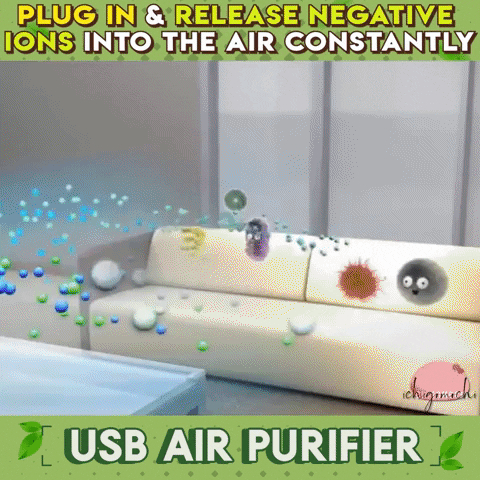 This USB can release negative ions and remove pollutants in the air. By releasing air with better quality, it can also improve the functioning of your respiratory system, letting you breathe even better.
Features:
-Protection Cap
Built-in spin-able protection cap ensures USB insert tip remain intact and covered even when it is not in use. 
- Releases Negative Ions
Benefits of Negative Ions includes: body cells regeneration, sleep quality improvement, memory enhancement and positive effect on mood.
- Removes Odors and Dusts
Absorbs bad indoor air with odors and dusts and releases better air with no pollutants.
- Eliminates Airborne Allergens
Attracts and eliminates airborne allergens like pollen, smoke, pet dander and other small particles.
- Boost Energy and Mood
Improve your mood and energy by providing you with better air.
- Decreases static and EMI (Electromagnetic Interference)
By inserting the USB Air Purifier into your computer, it can help bring down the static and EMI, preventing headache and dizziness.
- USB Insert Activation
No extra batteries or steps needed, simply insert into USB port and the air purifier will be turned on.
 - Improves Respiratory System
Test proven 30 minutes after inhaling negative ions, 20% more oxygen is inhaled and 15% more carbon dioxide is released.
Specifications:
Density of anion: 1 million /cm3
Weight: 22g
Dimensions: 89.5*21.5*21.5mm
Product Includes:
1pc USB Ionic Air Purifier